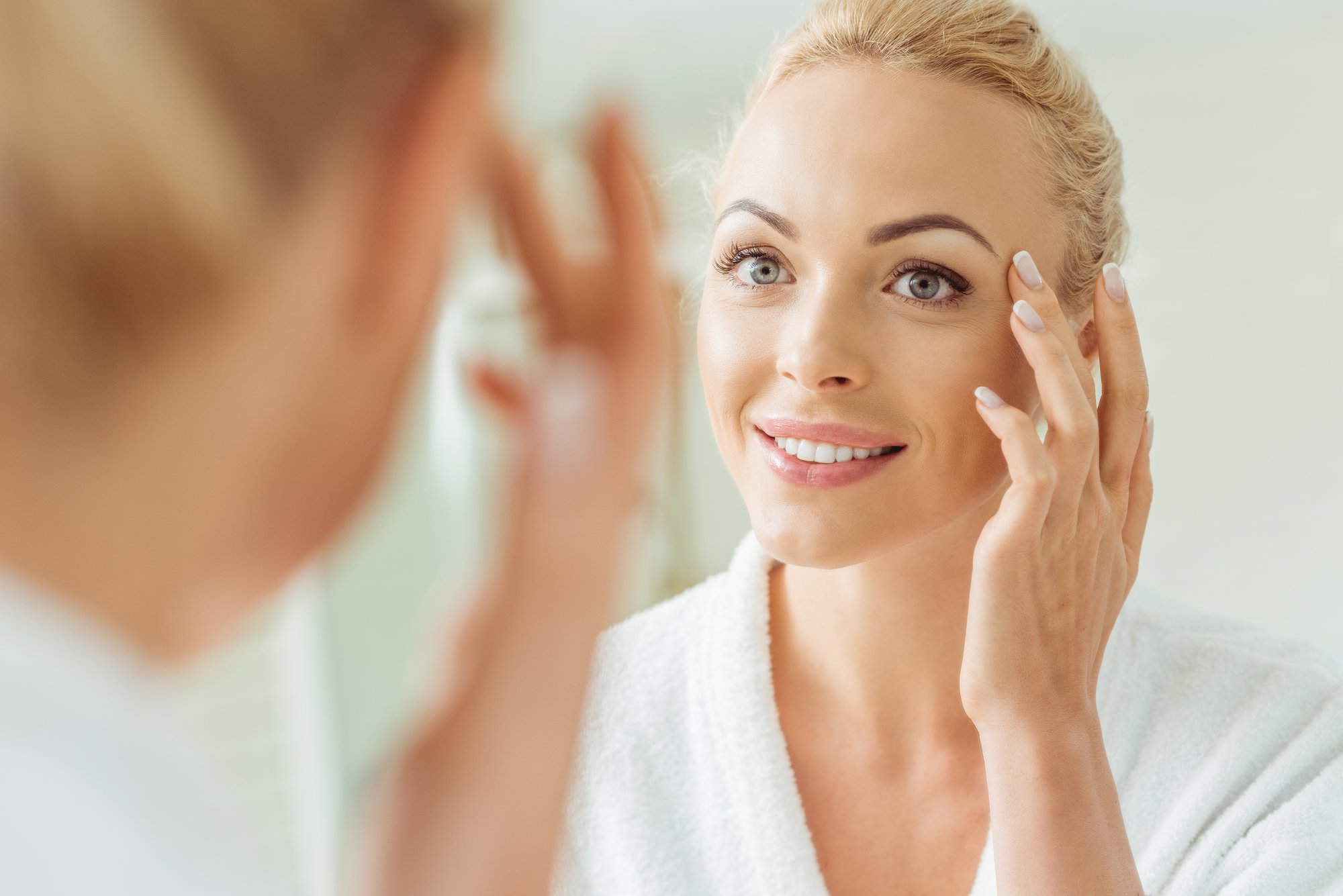 As we approach the end of the year, you might have already started thinking about your New Year's resolutions for 2019. Do those resolutions include striving for younger looking skin?
After countless years of telling ourselves that we're going to lose weight or read more books and not following through, it's about time we picked something else.
It's not easy to make time for big changes, especially when you're busy with a career, raising a family, or both. But there's one big thing you can change without much extra effort at all – the appearance of your face. If you've been struggling to reduce the appearance of forehead wrinkles, dark spots, or puffy skin underneath your eyes, make 2019 the year you tackle these issues and take better care of your face.
You don't always need to have facial plastic surgery done to transform the way you look. There are plenty of great topical creams and skin serums you can use at home, as well as non-surgical cosmetic procedures we can do here at Dr. Farrior Facial Plastic Surgery Tampa to keep you looking and feeling your best.
Why It Matters
Why should you make taking care of your face a top priority in 2019?
Some of the greatest benefits of investing in your skin now are:
– Boosted Confidence: Yes, we all know that it's what's on the inside that counts. But that still doesn't mean our appearance can't affect our confidence. No one likes having fine lines or an uneven skin tone. That's why so many people cover up these problem areas with makeup. Having clearer, smoother skin can help you feel more comfortable speaking in public, having your photo taken, or simply looking in the mirror.
– More Youthful Appearance: As we age, we tend to feel a disconnect between the person in the mirror and the person we know ourselves to be. You'll often hear people in their 60's say they feel the same as they did in their 40's or 30's – the only difference is the addition of wrinkles and fine lines. Investing in quality facial care can greatly reduce these signs of aging and give you younger looking skin that more closely matches how you feel on the inside.
– Healthier Skin: Making a commitment to better skin care isn't just good for your self-esteem. It's good for your physical health, too. A good beauty routine should help protect your skin from sun damage, which goes a long way to slow the aging process and prevent deadly skin cancer down the road.
The sooner you start a good facial skin care routine, the better the long-term results. Because who doesn't want to feel younger, healthier, and more confident? That being said, let's get started with some ways to kick start your skincare resolutions!
Revamp Your Home Face Care Routine
The simplest thing you can do to start taking better care of your face this year is to revamp your current skincare routine. Everyone's skin is different. That's why we recommend seeing a professional esthetician at a Tampa spa who can help you create a facial care regimen that works best for your skin type.
Whether your skin is oily, dry, or a combination of the two, these are some general tips from our knowledgeable plastic surgery specialists that anyone can follow to improve their daily face care routine.
– Moisturize Often: Unfortunately, many people tend to overlook the importance of moisturizing. Those with oily skin may even avoid it altogether. But did you know that dehydrating your skin actually causes it to produce more oil to compensate? Keep your skin hydrated by applying a gentle moisturizer after you wash your face. And don't forget to keep your lips moisturized with a good Chapstick, too!
– Wear Sunscreen: Especially in a sunny state like Florida, wearing either a chemical or physical sunblock daily is a must. Yes, daily, not just when you're hitting the beach. Many liquid foundations contain sunscreen, giving you makeup coverage and UV protection in one fell swoop.
– Drink More Water: Remember how we said you need to keep your skin hydrated? The best way to do that is to drink plenty of water. Most doctors recommend around eight cups per day.
Hands Off: If you have a bad habit of touching your face, make 2019 the year you kick the habit for good! The dirt and oils on your fingertips can irritate your skin and make any blemishes you have worse.
It also goes without saying that you'll want to wash your face, too. For most skin types, washing twice a day with a gentle cleanser and warm water (hot water can cause your skin to dry out and age faster) is the way to go.
Invest In High-Quality Skin Care Products
You know what you need to do to take better care of your face, so all that's left to do is choose the right products. Take a good look at the products you're using now. Are they made from quality ingredients? Are they giving you the younger looking skin you want? Are they even safe for your skin?
If you answered any of those questions with "no" or worse, "I don't know," then you might want to try something new. Skincare makes up the largest percentage of the cosmetic market. There's no shortage of wrinkle-removing, acne-fighting, and complexion-correcting products on the shelves. Unfortunately, not all of these products fulfill the promises they make. Do your research and seek recommendations from a trusted doctor before you invest in any new treatment system.
Some red flags you should try to avoid are:
– Products that claim to work overnight
– Products that aren't backed by science
– Products that aren't compatible with your skin type
Be Consistent
If there's one skincare tip you should remember in 2019, it's this – be consistent. Sticking to a routine is the best way to see long-term results. If you'd like more advice on how to get younger looking skin, give our plastic surgery specialists a call today.