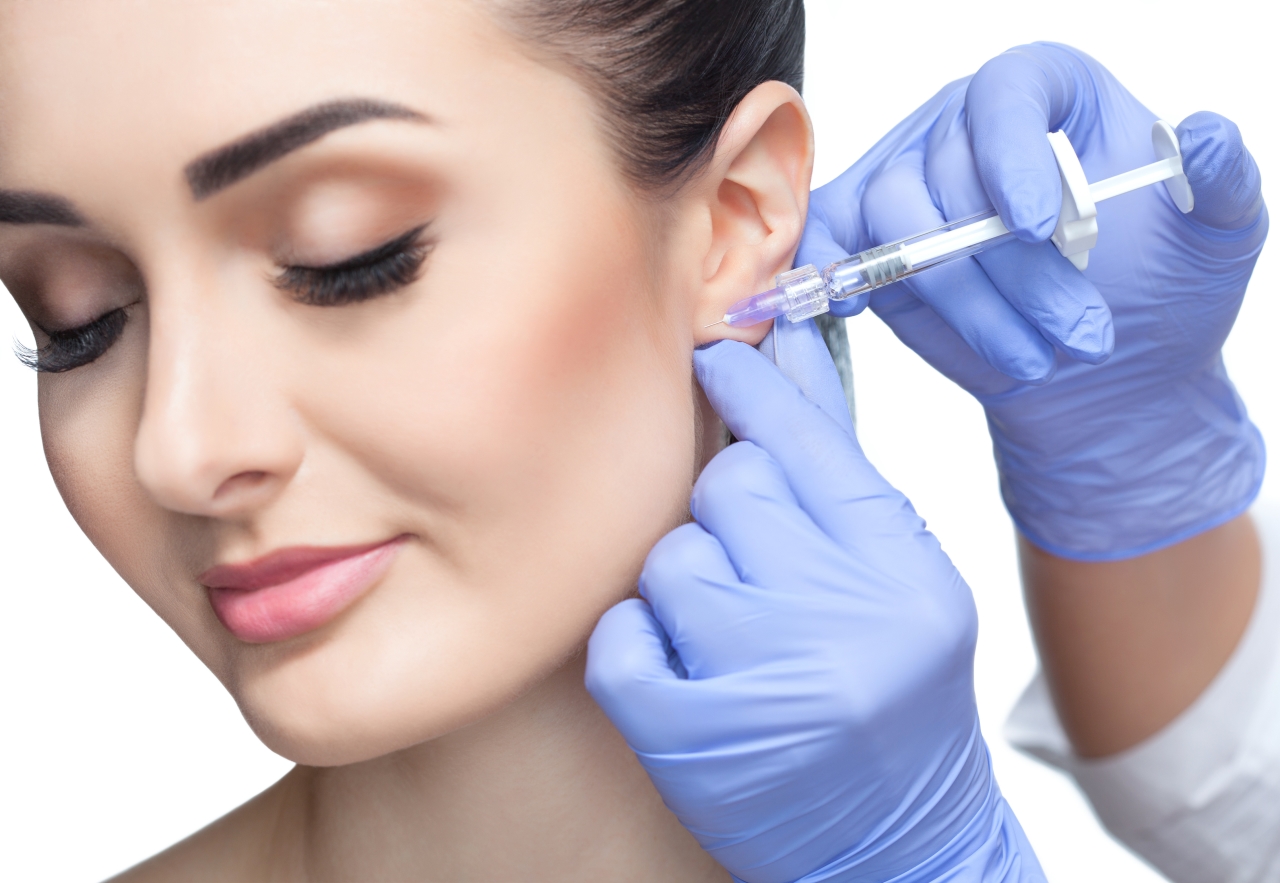 If you recently put on a pair of your favorite earrings and noticed that your earlobes don't hold them as firmly as they used to, don't despair. Thanks to new techniques in facial plastic surgery, repairing and rejuvenating your damaged earlobes has never been easier.
It happens to all of us. As we age, our skin naturally starts to wrinkle and lose its fullness - including the skin around your ears. Wearing heavy earrings can speed up the process, but eventually, our earlobes start to droop.
In this guide to earlobe repair, we'll explore the surgical and non-surgical options that are currently available and offer some simple tips to help you prevent your ears from becoming thin and stretched out.
How to Get Rid of Earlobe Creases with Surgery
The ears, and more often the earlobes, tend to be overlooked in facial rejuvenation. This can lead to an inconsistent surgical appearance after an otherwise successful facelift.
Ask facial plastic surgeon Dr. Edward Farrior about earlobe repair, a simple procedure that can be performed at the time of a facelift, rhinoplasty or other facial surgery or separately under local anesthesia.
The difference is easy to see - just take a look at these before and after photos of a Farrior Facial Plastic Surgery patient:
With this surgery, there is virtually no downtime. While you will experience some temporary bruising and swelling around the treatment area, you can be in and out of the office in about an hour.
Are you a good candidate for this quick and easy procedure? Earlobe repair surgery can be used to:
Repair tears caused by improper piercing or trauma (an earring being tugged on or caught on something)
Close up wide holes stretched out by wearing heavy earrings or gauges
Reshape earlobes that sag due to old age
Re-Piercing Your Ears After Surgery
After surgery, it is typically not advisable to re-pierce your ears in the same exact spot.
The scar tissue in that area isn't as strong as the surrounding skin, so piercing it can cause your ears to become torn and stretched all over again. Instead, facial plastic surgeon Dr. Edward Farrior will re-pierce the ears a few millimeters away from the site of the earlobe repair to ensure lasting results.
For less severe damage, your facial plastic surgeon may recommend non-surgical earlobe repair instead.
Non-Surgical Earlobe Rejuvenation
Surgery isn't the only way to plump up thinning earlobes. Volume can also be added to the earlobe with dermal fillers. These fillers give your ears a more youthful appearance and provide a better stage to display your earrings.
Fillers like Juvederm can be injected in just minutes, and the procedure is virtually painless. And the best part? The results are immediate - you'll notice that the skin around your ears feels firmer instantly.
Dermal fillers last longer in the earlobes than they do in the lips or the face, so you only need re-injections every year or so. These injections are best for minor and moderate sagging caused by aging skin and heavy earrings. If your earlobes are severely damaged, surgery may be the only way to restore their appearance.
4 Ways to Prevent Wrinkled Earlobes
No one can stop the skin's aging process completely. However, there are steps you can take to slow down the aging process and help your ears maintain a youthful appearance for as long as possible.
1. Switch to More Supportive Earring Backs
To keep heavy earrings from pulling down on your skin, consider swapping out your regular earring backs with stabilizing backs. While stabilizers come in a variety of shapes and sizes, they all serve the same purpose - providing extra support for your dangling accessories.
2. Take Out Your Earrings Before Bed
While many of us are guilty of accidentally falling asleep with earrings in, remembering to remove them is more important than you might think.
For starters, your piercings can easily be tugged and snagged as you toss and turn. Not only that, but you also increase your risk of infection by allowing sweat and dirt to build up in and around your earring holes overnight.
So before you turn in, be sure to remove and clean your earrings to keep your ears in the best condition possible.
3. Wear Lighter Earrings
The lighter the earring, the less it's going to tug down on your earlobes. Plastic is much lighter than metal, but if the idea of wearing plastic earrings sounds unappealing to you, try feather earrings for a fun and bold look.
If you can, save your heavier earrings for special occasions only or swap them out for studs.
4. Don't Forget Sunscreen!
Over time, sun exposure can damage the skin's structural collagen. Long-term collagen damage causes your skin to lose its elasticity, which can lead to unsightly creases and sagging - even in your earlobes.
The next time you apply your daily sunscreen, remember to give your ears some love, too!
Schedule a Consultation to Rejuvenate Your Earlobes
You don't have to let lax earlobes distract from your appearance any longer!
Just take a look at another real Farrior Facial Plastic Surgery patient before and after earlobe reduction surgery:
In addition to earlobe repair and rejuvenation, Dr. Farrior also offers otoplasty services to pin back protruding ears. Just check out our testimonials to see how life-changing these procedures can be!
For more information or to book a consultation with Dr. Farrior, please call our office at 813-875-3223.
Related Post: Imperfections Improved in 15 Minutes with Non-Surgical Nose Job