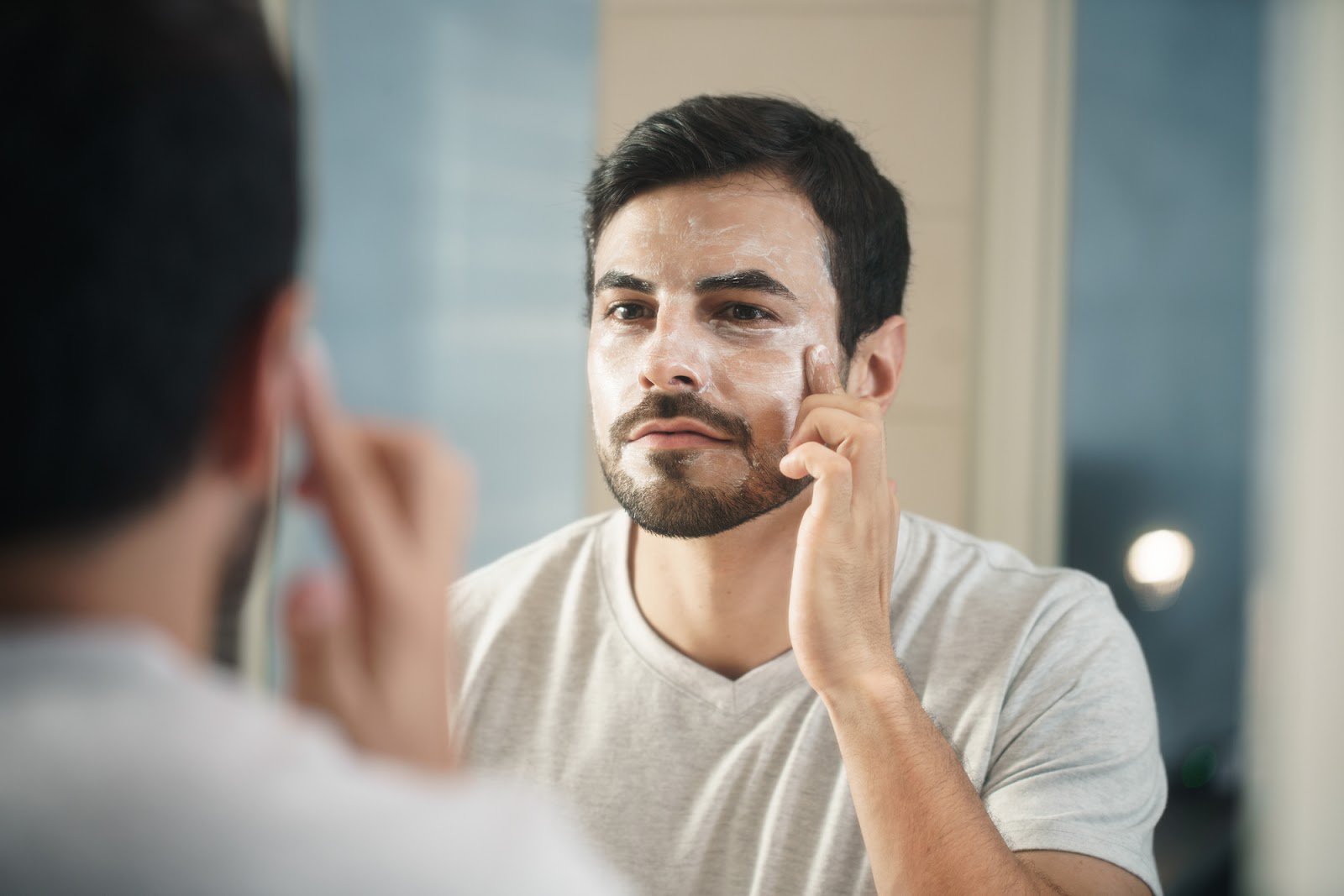 Being a man doesn't mean that you have to let yourself go later in life! Aging gracefully works for both genders.
Yes, it is true that society perceives some of the signs of aging as attractive in the male populous and not in the female counterpart. Grey hair, wrinkles and a tan complexion imply maturity, wisdom, security, self-confidence, and stability in men. Just look at George Clooney – he's pushing 60, yet he's still considered "dreamy."
That being said, you don't have to sacrifice your rugged good looks to have healthier skin. It may have a little less character, but you have the rest of your life, and I hope it is a long one, to be gnarly if that is what you want.
After all, even men have to deal with the physical effects of aging on their skin at some point – not even "Gorgeous George" will stay gorgeous forever. If you'd like to put off developing your grandfather's droopy jowls and wobbly turkey neck for as long as possible, read on.
Differences Between Men and Women's Skin Care
Most people think that the only difference between skin care products for men and women is the scent. Soaps and lotions for men smell like wood, leather and licorice, while women's fragrances tend to be flowery and sweet.
While there's no benefit to smelling like teakwood instead of peaches, there are real benefits to choosing products made especially for men.
The texture, elasticity and thickness of your skin are affected by the amount of testosterone your body produces. And because men produce more testosterone than women, men tend to have:
– Thicker Skin: The male epidermis, the outermost layer of skin, is up to 20% thicker than the female epidermis. Because men's thicker skin contains more collagen, they appear to age more slowly than women.
– Bigger Pores: Men produce up to 4 times more sebum, or oil, than women. This means men tend to have bigger pores and are more prone to acne.
In addition to hormonal factors, men's skin is exposed to a variety of different environmental factors as well. Shaving every day causes the skin to become even more dry and irritated.
With all of that in mind, let's dive into some anti-aging skin care tips that will help you maintain your youthful appearance for as long as possible.
1. Protect Yourself from the Sun
Prolonged sun exposure causes damage to the cell membrane, DNA, and cellular products such as collagen and elastin. This damage causes the skin to look unhealthy and age prematurely, the opposite of what we want from a "good tan."
Men need to start taking this warning more seriously – as of right now, men are more likely to die from melanoma than women. The risk only increases with age. By age 65, you're twice as likely to get melanoma than a woman of the same age.
Why?
Scientists suspect that part of it has something to do with the way that male skin reacts to UV rays. But the biggest reason? A lack of awareness. Because men tend to care less about taking care of their skin, they are less informed about the dangers of sun exposure.
Not you, though. You're reading this, and you're ready to learn about the best ways to protect your skin from harmful UV rays.
Wear Sunscreen: Doctors recommend at least SPF 30 sunblock for the best protection. Wearing a good sunscreen will let you get pigment you want, just not a burn and the damage that comes with it. If you're worried about smelling like a tropical vacation all day, choose an unscented sunscreen.
– Wear Hats: If you're not used to having a skincare routine, it's going to slip your mind every now and then. No problem – a hat and sunglasses can be just as effective at blocking UV rays from your face.
– Stay Out of the Sun at Peak Times: The sun's rays are strongest between 10 am and 12 pm. Get your yard work done early in the morning or save that jog for later in the evening when the sun is less intense.
2. Hydrate and Moisturize Often
This should go without saying. We all know the importance of staying hydrated, but how many of us actually follow through?
The recommended amount of water you should drink every day varies depending on your weight and level of activity, but men generally need to hydrate more than women. Doctors typically suggest between 3 and 4 liters of water per day for men.
You need to hydrate your skin with a good moisturizer, too. Remember, your skin loses moisture more quickly than a woman's skin – always moisturize after washing or shaving your face.
3. Reduce Oil Build-Up with Retinoic Acid
You usually hear about products containing retinoic acid, a derivative of Vitamin A, being used to treat wrinkles. But you can use topical retinoids to control oily skin, too.
For men, it's recommended that you apply retinoic acid to the thick oily skin of the nose once or twice a day. This will reduce the formation of sebaceous material and the appearance of blackheads. After 6 weeks of consistent use, you'll see a noticeable change in the appearance of your skin.
If your skin is particularly oily, it can be applied to the entire face. Just be careful – topical retinoids make the skin more sensitive to sunlight, so be sure to apply sunscreen while you're using them.
4. Consider Botox
When most men hear the word "Botox," they think of someone whose face is so full of it that they can hardly emote. This couldn't be farther from the truth.
The purpose of cosmetic Botox is not to eliminate animation, but to reduce overactive animation. That means reducing the angry, tired, heavy appearance while softening wrinkles. No one wants a face that does not move, but we would all like a face that appears less hard and a little more kind.
5. Get in the Habit of Using TNS Serum
TNS is a natural and powerful ingredient in SkinMedica anti-aging serums. Using a TNS serum once a day will make your skin look and feel better.
TNS contains an epidermal growth factor that thickens the outer protective layer of the skin, improving tone and texture.
Conclusion
These simple, non-invasive habits will make a noticeable difference in the appearance of your skin and slow the aging process. A youthful glow to the skin is attractive to everyone – the sooner you start taking care of your skin, the longer you'll retain that glow!